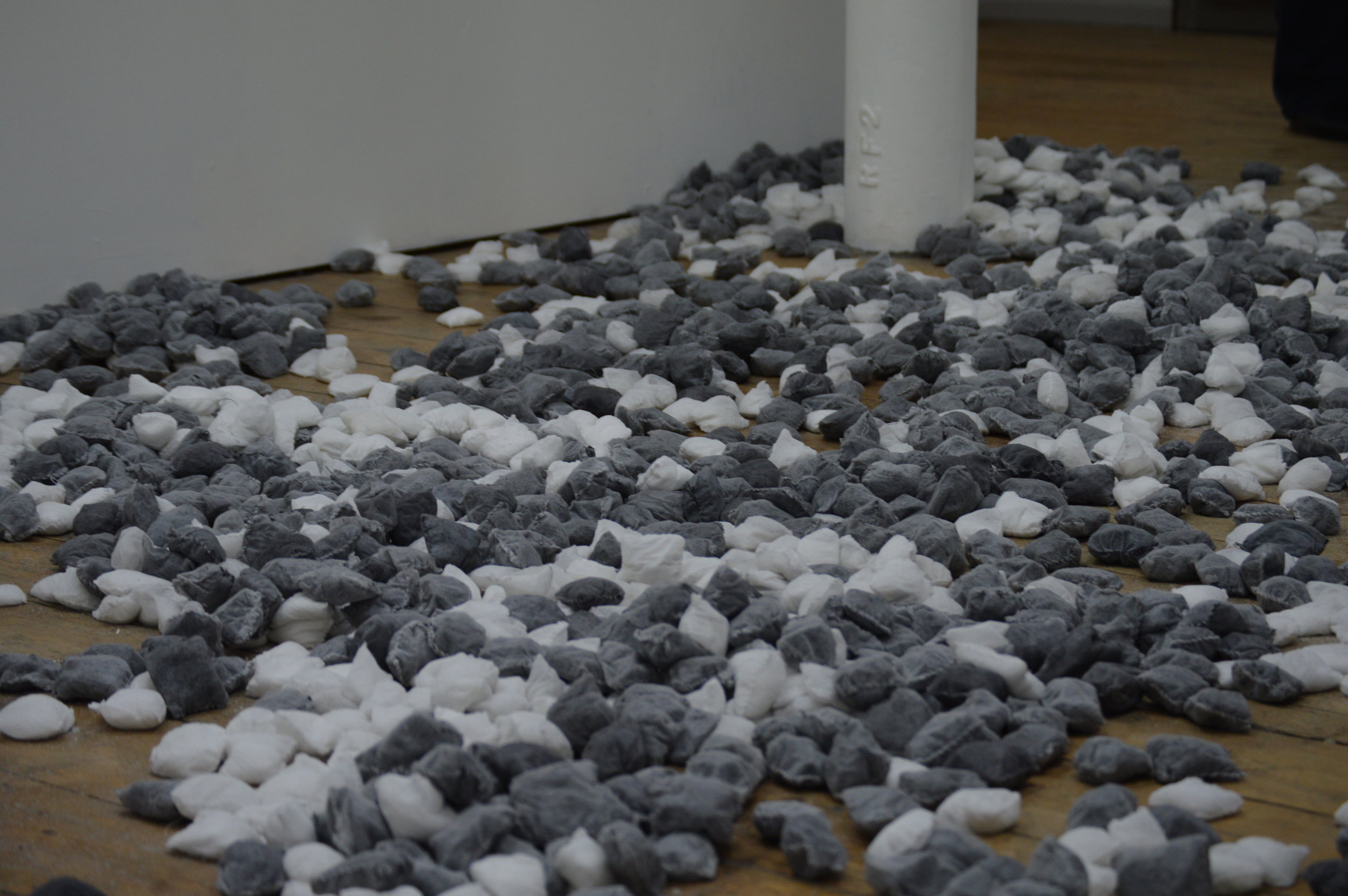 LONDON ART FAIR 2019
Brocket London presents two artists of different sex and generation, whose childhood narratives have informed their work as response to historic conflict with a common enemy against their respective country or culture.
This presentation forms parallels between the artists through painting and installation.
Iraqi-Kurdish artist, Roshna Rasool Qorbanee explores the transient nature of life, and the contrast between the resilience and fragility of the human body.
Her thought provoking installation piece, 5000 Objects to Show 5000 Dead Bodies, represents the memories of her childhood following a chemical attack by Saddam Hussein's troops in the town of Halabja, Northern Iraq and the death of five-thousand Kurdish people, 16 March 1988.
The small fabric bags are filled with white salt and black charcoal and sewn together - similar to those made by the artist's mother after the massacre took place, for her child's protection in the event of another chemical attack. The concept was that the charcoal and salt-filled bags would act as a filter against poisonous gas if held over the nose and mouth. Qorbanee was four years old at the time. Qorbannee, now a mother herself, developed this work in response to her own feeling on motherhood and the female body as protector.
Growing up in Iran in the 2000's, recent City and Guilds of London graduate, Armand Voyeux was surrounded by images and stories about the Iran-Iraq war of the 1980's.
The engrained depictions of the 'citizens' fighting for the liberty of the Islamic Republic of Iran during Voyeux's formative years is something the artist has recently felt an urgency to address in his work.
Revisiting the images as an adult, he is more aware of the atrocities displayed in some photographs while recognising an indifference in his childhood self when flooded by a great number of them. Voyeux's work embodies an essence of dated popular imagery; martyred, detached, nameless, yet revealing.
Visit London Art Fair here